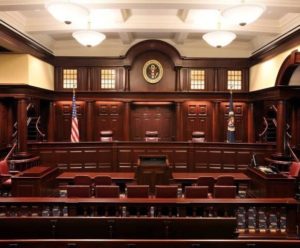 By appearing before the Washington DC U.S. Circuit Courts of Appeals for the Federal Circuit (CAFC), Watson & Associates' circuit court appeal lawyers help contractors to diligently pursue what appeared to be an erroneous decision from the trial court, usually the U.S. Court of Federal Claims.
As US Court of Appeals for the Federal Circuit Appeals lawyers, we understand the impact of losing out on revenues either during bid protests stages, contract claims denials or termination from doing business with the federal government. Our federal court lawyers offer.
Help for government contractors in All States

Hands-on substantive experience in the various contracting phases;

Appellate legal services for large contractors and small businesses; and

Competitive rates when compared to larger law firms.
Legal Representation for Federal Government Contractors in ALL States.
Contract Disputes Act claims appeal

Court of Federal Claims Appeals

SBA & Small Business Appellate Cases

HUBZone Certification  and SBA OHA Appeals

SBA Decisions and SBA Office of Hearings and Appeals
Court of Federal Claims Appeals Cases
Given the massive undertaking, and by knowing the standard of review at this US federal appeals court, our goal is to develop our appellate attorney team and focus on getting results for our clients. 
The U.S. Circuit Courts of Appeals for the Federal Circuit attorneys at our office understand that the Court of Federal Claims in Washington DC may sometimes commit clear error in its bid protests decisions or Contract Disputes Act opinions. Our Court of Federal  Appeals Lawyers can help
Geographically positioned to help in all states: With law offices in Washington DC and Denver Colorado, our US federal circuit court of appeals lawyers litigate a wide range of issues in government contract law.
The law firm understands that prosecuting a case a the trial level can be considerably different than at the CAFC or any other court of appeals. Many federal government contractors sometimes take a chance by using a local contracts attorney to litigate government contracting matters. This can sometimes lead to disastrous results.
Experienced in various government contracting areas: When litigating at the United States Court of Appeals for the Federal Circuit, not only does your appellate attorney have to know the substantive areas of government procurement but the attorney should have some idea of congressional policy and statutes at the higher level.

US Federal Circuit judges also look at these arguments to help them decide whether Court of Federal Claims (COFC) may have issued a decision in error.
Government Contract Small Business US Federal Appeals Court Lawyers
At Watson, our federal appeal lawyers litigate issues related to small business programs (decided at the SBA Office of Hearings and Appeals (OHA)). This includes small business size appeal decisions, affiliation concerns, SBA certificate of competency decisions at the COFC level.  Our circuit court appeal lawyers also litigate appellate cases involving HUBZone Program matters, post-award and pre-award bid protest decisions affecting small business set-asides.
COFC Bid Protests US Federal Circuit Court of Appeals
When the Court of Federal Claims makes a final ruling in bid protests, the might be some level of legal error in the decision. To overturn the COFC decision, a government contractor will have to appeal the decision to the US Federal Circuit Court of Appeals. This process requires the appellate attorney to completely review any proceedings at the lower court level.
A detailed review of trial history: As one of the top appellate law firms for government contracts, Watson & Associates, our Washington DC and Colorado-based Circuit Court of Appeals attorneys understand the seriousness of appellate advocacy.
As trial lawyers, we look to see if the bid protest of awarded federal contracts was litigated at the Government Accountability Office (GAO) and look into any subsequent government contract protests filed at the Court of Federal Claims. When the COFC makes an adverse decision in favor of the government's motion for judgment on the administrative record (AMJAR), our United States Court of Appeals for the Federal Circuit lawyers step in to assess the merits of an appeal to the Court of Appeal.
Contract Disputes Act Claims Federal Appeal Lawyers
Government contractors may litigate a case at the trial court level (Court of Federal Claims or Board of Contract Appeal) only to find that the court issued an unfavorable decision. Our federal appeal lawyers will assess the merits of the decision and provide legal advice on whether filing a case to the federal courts of appeals would have any merit.
The law firm frequently litigates construction claims and service contractor claims at the various boards of contract appeals and can help clients to appeal their cases. We handle Contract Disputes Act Claims from the contracting officer's final decision all the way up to appeal to the Federal Circuit.
Call Watson's Federal Appeal Lawyers for Immediate Help
If your company is contemplating filing an appeal to the US Court of Appeals for the Federal Circuit, there is limited time. Call our government contracts federal appellate court lawyers. Contact the government contract appellate attorneys and trial lawyers at Watson & Associates, LLC. Free initial consultation. 1-866-601-5518.