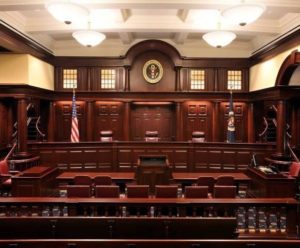 Appellate Litigation at the US Court of Appeals for the Federal Circuit – Government Contractors Lawyers
Bid Protests    Contract Disputes Act Cases     Small Business Disputes and More
The federal appeals attorneys at Watson & Associates LLC law firm are experienced federal appellate litigators representing federal government contractors in high-level and complex cases. Clients from across the United States retain our federal appeals lawyers to represent them when the lower court issues an adverse decision that is related to a specific federal procurement or government contract.
The law firm provides legal counsel and appellate services to small businesses, large defense contractors, and overseas US contractors.  Whether you are appealing a decision from the United States Court of Federal Claims (COFC), the SBA Office of Hearing Appeals decision related to a small business-size protest, or a government contract claims case, our federal appellate government contractor lawyers can help.
Initiate a conversation with Theodore Watson, federal contractors lawyer, and our lead federal appellate attorney.
If you are looking for government contractor lawyers that understand the various substantive issues related to a bid protest, Contract Disputes Act claim, small business regulations or some other contractor dispute, our federal appeal lawyers at Watson & Associates, LLC will review your case and provide you with the right legal strategy and advice on how to proceed. We believe that your investment is well served by looking at the record below and ascertaining whether there is a legal basis for an appeal to the United States Court of Appeals for the Federal Circuit.
 Contact Watson & Associates government contractors lawyers today toll-free at 1.866.601.551 for a free consultation. 
US Federal Circuit Court of Appeals Lawyers Handling Cases Across the Nation
As federal government contractor appellate attorneys, Watson & Associates handles a variety of cases for small businesses and defense contractors across the United States and overseas. Many of our appellate cases originate from cases decided at the lower court by Court of Federal Claims judges.
Cases at the US Federal Circuit Court of Appeals involving federal procurement rules are very complex and sometimes require an appeals attorney that also understands the substantive issues related to the appeal itself.
As federal contractor appeal lawyers, we also let clients know that appealing their case to the U.S. Court of Appeals for the Federal Circuit is not an opportunity to relitigate their case. Instead, it is the chance to convince the federal appellate judges that the lower court has committed reversible errors. Most arguments stem from an abuse of discretion or misuse (admission or failure to admit ) of evidence that was critical to the outcome.
Federal Appellate Law Firm and Government Contractors Lawyers
The Watson law firm only represents government contractors seeking to appeal their Court of Appeals for the Federal Circuit. Our attorneys frequently litigate government procurement issues at the SBA, and Office of Hearings and Appeals  (SBA OHA) and we also litigate bid protests at the US Court of Federal Claims (COFC). Therefore, we understand the unique legal issues that can arise when contractors want to appeal a COFC decision to the Federal Circuit Court of Appeals.
Appealing Bid Protest Decisions to the Federal Circuit Court of Appeals: Our government contractors lawyers and team of federal attorneys practices before the various federal appellate courts for appeals in federal procurement and government contract litigation cases. Our government contractor appellate lawyers understand that trial courts make frequent mistakes. We spend the time and client investment to provide a detailed analysis of the trial court's record. You will have a federal appeal lawyer that can assess and make a decision on whether there is merit to filing an appeal at the US Court of Appeals for the Federal Circuit.
Appealing Contract Disputes Act Cases to the Federal Circuit Court of Appeals: Many government contractors receive adverse decisions from trial courts that involve the Federal Contract Disputes Act (CDA). CDA litigation cases can involve various issues such as termination for default, and denial of contractor claims from the contracting officer. COFC appeal to the Federal Circuit Court. Issues that arise in Contract Disputes Act appeals can include:
Appellate jurisdiction
Whether claims meet the requirements of the Contract Disputes Act
Damages sought by the appellant
Evidence issues mishandled by the court.
Bid Protest Appeals to the US Court of Appeals for the Federal Circuit
When the lower court (often the US Court of Federal Claims) decides adversely against a government contractor, there is a right to appeal to the US Court of Appeals for the Federal Circuit.  At Watson, our federal circuit court of appeals lawyers litigate bid protest cases at the various lower courts. We have experience with various issues regarding technical evaluations, past performance decisions, improper discussions, best-value evaluations, and more.
Federal Circuit Court Appeal Lawyers for Small Businesses and Large Defense Contractors
It is usually common knowledge that appellate litigation requires a different level of skill than litigation at the lower court. When lower court judges hear cases, they often have an opinion and discretion as to what weight they give to evidence and testimony presented at trial. Our Circuit Court of Appeals lawyers can help to analyze the trial record to assess whether there is any merit to a potential appeal.
What do You get From the Appellate Courts? Federal Appellate procedures allow you, as the losing party at trial, to convince the appellate court that the lower court has made a legal mistake or abused its discretion. Our Government contractors lawyers appeal high-stake cases when the contract value is substantial or simply where the lower court's decision is so important that it must be reviewed by the appellate court. When government contractors win on appeal at the Federal Circuit Court of Appeals, the judges may remand the case back to the lower court with orders to relook at the matter given the appellate court's instructions.
Our Government Contracts Appellate Lawyers Represent Contractor Appellants and Appellees
With regards to winning on appeal, litigating appellate cases can be difficult and the chances can be risky.  Therefore, we cannot guarantee our clients that they will prevail.   The probability of prevailing on appeal before this federal circuit court stems from the trial record and the evidence provided at trial. Only then, can one assess the issues before an appeal.
The federal appeals court lawyers at the Watson law firm are experienced in a variety of areas involved in federal procurement cases. We represent clients that appeal decisions involving Buy American Act (BAA), post-ward and pre-award bid protests, small business size issues, Federal Acquisition Regulation disputes, and cases involving the Contract Disputes Act and contractor claims against the federal government.
Appellate litigation is time-consuming and expensive. There is just no way to get around it. When cases are presented to the US Court of Appeals for the Federal Circuit, the issues are sometimes very complex and require appellate lawyers that understand the legal issues in federal procurement.
The cost to appeal cases and bid protests run into the tens of thousands of dollars and more.  This is why the investment into assessing the initial case and its merits is critical.
 Contact Watson's Federal Circuit Court Contractor Appeals Attorneys Today
f you are a federal government contractor and need help assessing or litigating an appeal before the US Court of Appeal for the Federal Circuit, call our federal appellate lawyers toll-free at 1.866.601.5518.