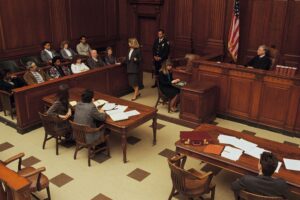 Avoid the Most Costly Mistakes Made By Government Contractors Charged With White Collar Crimes. Our Defense Team Provide Nationwide Representation In  White Collar Criminal Defense Cases. We Represent Federal Contractors and Employees Throughout the County and Overseas. Call a White Collar Crimes Lawyer for Immediate Help.
If you're facing a white collar crime charge that involves a federal government contract, you need a defense lawyer who has the experience and knowledge to protect your rights and fight for your freedom. White collar crimes are serious offenses that often involve complex financial transactions, large federal contract awards, and the penalties for criminal conviction can be extremely severe. That's why it's crucial to have a skilled white collar crimes lawyer on your side.
If your company provides healthcare under federal programs; if you are a business executive, government employee, or a government contractor providing services or products to the federal government –  under a federal government investigation for government contract fraud or pass-through schemes – if the US attorney's office, the Department of Justice (DOJ) or Office of Inspector General (OIG) are inquiring into your business operations, this can be a stressful and daunting experience.
If federal investigators and federal prosecutors find sufficient evidence to charge you with a white collar criminal offense, you will be exposed to severe fine and jail time. If you get indicted or ultimately convicted for government contractor fraud, you want to minimize media exposure you're your business reputation. These situations are where you want to retain the best white-collar crime attorneys that can address the underlying crimes sought out by prosecutors.
Nationwide Reach
With law offices in Washington DC, and Denver, Colorado, the law firm of Watson & Associates, LLC also focuses on government contractor white collar criminal defense cases. We have a team of experienced lawyers who have successfully litigated the very underlying issues that federal prosecutors charge our clients with. Our attorneys cover a wide range of white collar crimes, including False Claims Act compliance, procurement fraud, Buy American Act violations (BAA compliance), Government procurement fraud involving small business program fraud and various FAR and procurement violations.
When we represent CEOs and companies doing business with the federal government, we for a team of experts and criminal defense attorneys that can fight back and aggressively defend our client's rights. We understand the intricacies of these types of cases and have the expertise to build a strong defense strategy.
Our lawyers have a deep understanding of the laws and regulations that govern white collar crimes involving federal government contracts. We know how to navigate the legal system and work with prosecutors to negotiate plea deals or reduce charges. With a solid legal team in place, we also can conduct thorough investigations and gather evidence to support your case.
White Collar Criminal Cases We Handle
White-collar offenses sought after by the US Attorney's office, DOJ and OIG are typically related to small businesses, medium-sized and large DOD defense contractors. Civil and criminal offenses such as fraud, conspiracy, government procurement fraud, healthcare fraud, and kickbacks are the types of white collar criminal defense cases we handle. If you are targeted for a crime, call our white collar defense attorneys right away.
At Watson & Associates, LLC, our white collar crimes lawyers represent individual and government contractor clients nationwide in various federal white collar investigations and procurement fraud prosecutions. Our white collar criminal defense lawyers have the required experience to represent small businesses, large DOD defense contractors, executives, company owners, and business entities in a variety of cases, including the following:
Inspector General Investigations: As part of the law firm's white-collar criminal defense practice, we represent high-level executives and contractor employees in white collar investigations conducted by various offices of inspectors general, including the Small Business Administration (SBA), Veterans Administration (VA), Housing and Urban Development (HUD), and the Department of Justice (DOJ). 
Trade Agreements Act (TAA Compliance Lawyers)
Trade Agreements Act TAA compliance is a critical element of successfully operating in today's international business environment. For companies facing TAA compliance issues, it is important to have experienced counsel who can help guide them through the process and ensure they are fully compliant with all relevant regulations. A white collar criminal defense lawyer with expertise in this area can provide invaluable guidance and representation; they understand the complexities of the law and can assist in navigating the process to ensure compliance with Trade Agreements Act requirements. See information about the exceptions to the Trade Agreements Act. From defending against criminal investigations to providing critically needed advice on TAA-related matters, a white collar crimes lawyer is your best option for addressing any and all issues related to Trade Agreements Act TAA compliance lawyers. With their expertise and guidance, you can rest assured that your business is in good hands.
Government Contract Small Business White Collar Crimes Attorneys
The Department of Justice and various IG offices are active in pursuing government contractors for allegations of violating the SBA small business regulations. In order to adequately represent our clients in white-collar criminal defense cases, we understand that knowing this unique set of laws is essential. Many local criminal defense lawyers are not versed it this specific area of law. As a result, small businesses find themselves indicted and ultimately convicted.
The U.S. Department of Justice (DOJ) is the primary law enforcement agency responsible for prosecuting criminal acts against government contractors related to SBA program fraud, including fraud in. the SBA 8(a) BD Program, SDVOSB fraud, and HUBZOne Program Fraud. Such fraudulent activities include false claims, bribery of government officials, kickbacks and other illegal activities that undermine the integrity of the government contracting process. The DOJ's Fraud Section is the agency responsible for investigating and prosecuting SBA program fraud cases. When a criminal violation is identified, the DOJ may bring civil or criminal enforcement actions against you or the company if they have evidence to suggest that you are engaging in such activities.
Buy American Act (BAA Compliance Lawyers)
The Buy American Act is a federal law that regulates the purchase of goods by agencies and entities within the United States government. It requires that any goods purchased with U.S. taxpayer funds must be manufactured in the United States or its possessions. Violations of the Buy American Act can result in civil penalties and even criminal prosecution, which is why it is important for businesses to understand and comply with the law. If you or your company have been accused of violating the Buy American Act, it is essential that you contact a white collar criminal defense lawyer right away.
An experienced white collar criminal defense lawyer can advise you on how best to respond to allegations of BAA compliance violations and work with you to develop a strategy for defending your interests in court. Your attorney will also be able to explain the law and its implications for your business, as well as any potential consequences of a conviction. By taking swift action, you can minimize the damage caused by any violations of the Buy American Act and protect your rights. Call our White Collar BAA compliance lawyers today.
False Claims Act White Collar Crime: Any finding by US Attorneys that you have broken the law and have committed procurement fraud, the next step is to seek damages under the False Claims Act.
Other areas of practice include
U.S. False Claims Act

Major Fraud against the United States

Health care fraud

Federal Procurement fraud

Violation of SBA and Government Small Business Laws
The White Collar Defense and Investigations Practice Group at Watson &. Associates defend small businesses, senior executives, public officials and other contracting individuals in a wide range of white collar investigations and prosecutions. 
Many white collar crime cases that involve government contracting have simultaneous criminal, civil and regulatory actions arising out of the same events.  For example, contractors may have litigation pending at the US Court of Federal Claims, while a suspension and debarment case is also pending. We understand that government contractor fraud cases are very complex. Therefore, we build a team that is specifically tailored to our clients' case. We then develop the more likely path to get a favorable result for our clients.
Our White Collar Criminal Defense Lawyers Help You to Reduce Stress
As white collar crime attorneys, we understand that when you are accused of a white collar crime it can be overwhelming and stressful. That's why we provide you with personalized attention and explain the pros and cons as well as the strengths and weaknesses.
When we take on the role of being your white collar criminal defense lawyers, our team takes the time to listen to your concerns, answer your questions, and keep you informed throughout the process. We are committed to protecting your rights and fighting for your freedom.
If you're facing a federal criminal charge. involving a federal government contract, don't wait. Contact us today to schedule a consultation with an experienced white collar crimes lawyer. We are here to help you through this difficult time and provide you with the best possible defense.
Nationwide Reach
 Since government contracting is federal in nature, our white collar lawyers are able to represent government contractors in any state.
Contact Our Federal White Collar Crime Lawyers
 For immediate help from the investigation, indictment and trial stage, call Watson's white collar criminal defense lawyers at 1.866.601.5518.